Elie Esper Named Official Hairstylist of Couture Fashion Week New York November 2012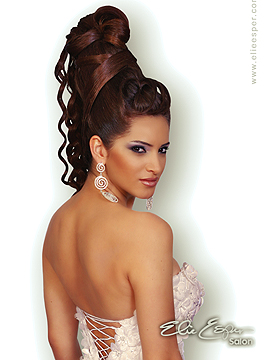 Elie Esper, the renowned celebrity hairstylist from Lebanon, has been named as the official hairstylist for Couture Fashion Week for the November 2012 season. The event will be held November 2012 at the Waldorf-Astoria on New York City's famed Park Avenue.

Elie Esper, Creative Director/Founder of Elie Esper Salon, an upscale hair & makeup service salon; that also features full bridal services. Elie Esper has brought to the United States his experience and incomparable techniques that impressed the hairstyling industry for over 16 years. Having worked in prestigious runways for L'Oreal in Paris and the Middle East; and is currently running a very successful international salon that serves NY/NJ area and all around the world.

Elie Esper is one of New York's most sought-out hairstylists by Asia/Middle Eastern celebrities. He is the official hairstylist for "Stars on Board" a luxury celebrity cruise that sails twice a year.

Elie Esper is also known in the bridal industry as the best couture hair designer, having earned the recognition by "crème de la crème" stylists, designers and artists in the world of bridal. Elie Esper stages an extravagant production every year, to exhibit his new hair design collections, which attracts media, press, fashion & beauty trendsetters. His avant garde designs give him an edge over other hairstylists in the community. Elie Esper Named Official Hair Stylist for Couture Fashion Week New York

His work has been featured in magazines' covers like Hia from Dubai, Artistic Magazine from Europe, High Class, BC Magazine, Orient House, Elle, and 201 Bride.

In addition to appearing on numerous TV shows, including a morning show in which Elie had a weekly segment for three consecutive years, he has worked on films and numerous music videos.

Being considered a fashion icon in his community, Elie Eper is continually invited as a special guest of many beauty pageants over seas. He recently served as one of the judges for Miss Lebanon US.

Committed to the artistry of beautiful, elegant hair, Elie Esper is in high demand for his innovative techniques and professionalism.